Todd was my third-grade arch nemesis. For some unaccountable reason, all the girls in my class seemed to like him, including Jamie Conway, that dark-haired vixen with the black-magic voice that haunted me for years. Todd was taller, better looking, and probably smarter than I was, and he could draw. While I was overjoyed to learn to draw realistic cubes, he could draw believable dinosaurs, an infinitely sexier subject. He drew her attention away from me, and I cursed him for it.
For years I've wished that I could draw realistic pictures—perhaps to prove that Todd wasn't that special after all. I've doodled. Sometimes I'm surprised by how well my doodles turn out. Most of the time, I hide them from critical eyes. I hate doing things that I'm not good at, being vulnerable in that way. When I realized how driven by fear I had become, I started to intentionally put myself in situations where I would probably make a fool of myself.
Today is a continuation of that quest to face up to my silly fears. My wife gave me Keys to Drawing for Christmas. I plan to post my drawings here to 1) allow myself to look foolish, 2) use your peer pressure to keep me going, and 3) chronicle my progress (I hope).
The first exercise was to draw my crossed feet using a simple line drawing with no erasing and redrawing lines where necessary. The key was to spend more time observing my feet than being critical of my drawing. I think the author expected me to be wearing shoes, but I spend most of my time at home barefoot, so you get a 2-for-1 embarrassment deal: my amateur drawing and my feet in all their long-toed, short-footed, hairy, knobby glory: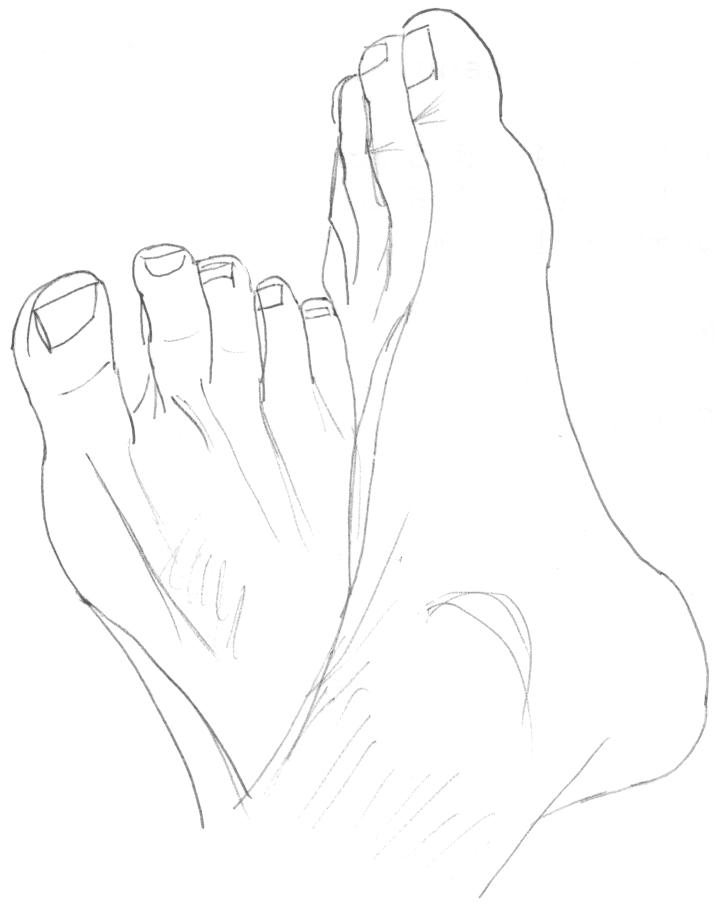 Tags: drawing, fear, Keys to Drawing, pride