Sam Harris made a provocative comparison between the FLDS and Islam:
A point of comparison: The controversy of over Fitna was immediately followed by ubiquitous media coverage of a scandal involving the Fundamentalist Church of Jesus Christ of Latter Day Saints (FLDS). In Texas, police raided an FLDS compound and took hundreds of women and underage girls into custody to spare them the continued, sacramental predations of their menfolk. While mainstream Mormonism is now granted the deference accorded to all major religions in the United States, its fundamentalist branch, with its commitment to polygamy, spousal abuse, forced marriage, child brides (and, therefore, child rape) is often portrayed in the press as a depraved cult. But one could easily argue that Islam, considered both in the aggregate and in terms of its most negative instances, is far more despicable than fundamentalist Mormonism. The Muslim world can match the FLDS sin for sin–Muslims commonly practice polygamy, forced-marriage (often between underage girls and older men), and wife-beating–but add to these indiscretions the surpassing evils of honor killing, female "circumcision," widespread support for terrorism, a pornographic fascination with videos showing the butchery of infidels and apostates, a vibrant form of anti-semitism that is explicitly genocidal in its aspirations, and an aptitude for producing children's books and television programs which exalt suicide-bombing and depict Jews as "apes and pigs."

Any honest comparison between these two faiths reveals a bizarre double standard in our treatment of religion. We can openly celebrate the marginalization of FLDS men and the rescue of their women and children. But, leaving aside the practical and political impossibility of doing so, could we even allow ourselves to contemplate liberating the women and children of traditional Islam?
Update: Jesus and Mo' weigh in on the issue.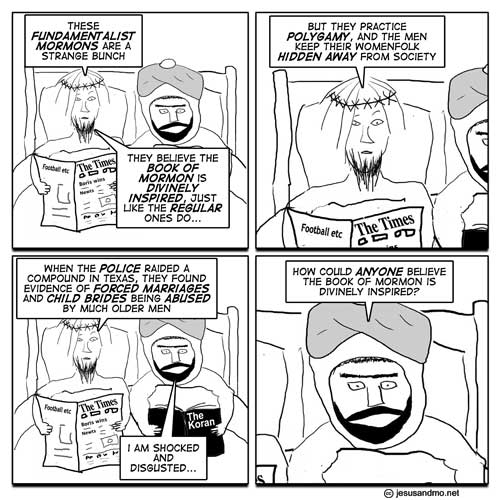 Tags: Islam, Mormon Fundamentalism, religion, violence