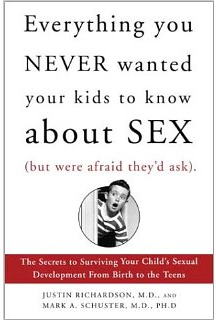 I recently read Everything You Never Wanted Your Kids to Know About Sex (But Were Afraid They'd Ask). This book is the product of the authors' years of experience taking questions from otherwise capable parents who find themselves flummoxed by their child's sexuality. The title reflects the frequent doses of humor that help ease the sense of dread that sometimes accompanies thinking about S-E-X and K-I-D-S at the same time.
The authors did their best to help everyone, even people who will ignore parts of their advice. I'm thinking specifically about religious parents, those of us who feel duty-bound by our religious convictions to, for example, teach our children only abstinence despite the research that this generally leads to poorer outcomes. The authors provide the best advice they can. If parents choose to ignore that advice, the authors do their best to provide workable alternatives to the optimal strategy without laying on guilt trips about being a bad parent. They try hard to help everyone.
I learned a thing or two about childhood sexual development that helped me to accept my own awkward, faltering steps toward adult sexuality. It helped me lay aside some residual embarrassment and guilt. In that respect, I think it's fair to call this book life-changing for me.
Who knows? My children might even benefit from my having read it.